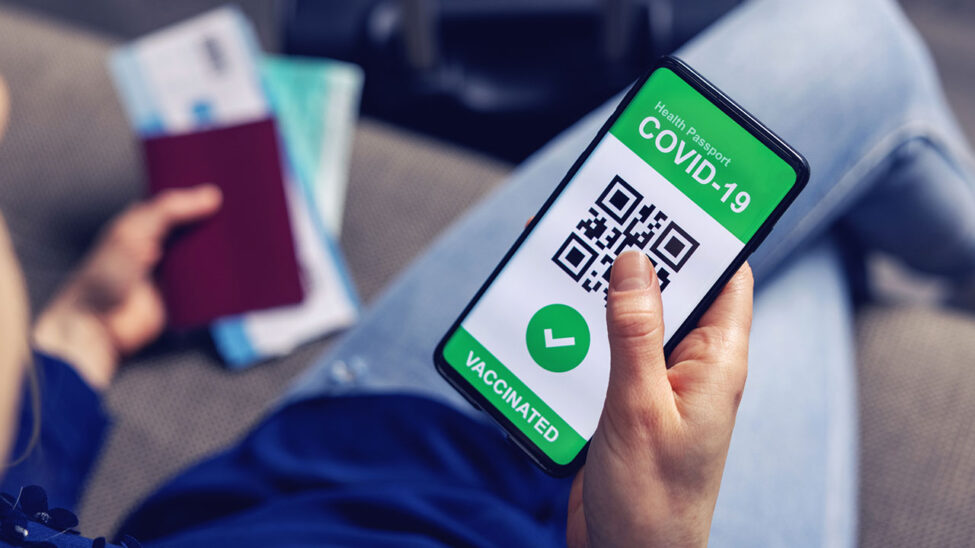 The European Union Digital Covid Certificate is a means of proof that one has been vaccinated against Covid-19, obtained a negative test result, or recovered from the illness. But it is also much more than that: it represents the chance to travel freely between EU countries.
What is it?
The European Digital Covid Certificate has been in place since 1 July, 2021, and is a digital means of proof that somebody has been vaccinated against Covid-19, obtained a negative test result, or recovered from the illness.
The EU Covid-19 vaccine passport is simply a certificate that is recognised as valid within EU borders and that allows for free movement within this space, as well as access to services such as lodging, restaurants and cultural events, standing as proof that its bearer, who is identified on the document itself, is healthy and does not represent a risk of contagion for other citizens.
The EU Digital Covid Certificate works in the same way in all countries within the EU, which is to say that it confirms the health status and the protection level of each individual so that he or she can, in Portugal for example, access the same services such as lodging and restaurants that they would be able to access in France, the Netherlands, Spain or any other EU country, as well as Norway, Liechtenstein, and Switzerland.
Characteristics of the Covid-19 Vaccine Passport
The European Covid-19 Vaccine passport can be presented both physically, as a document, or digitally. It includes a QR code that shows that it is valid and, finally, it can be obtained for free. It is written both in the language of the respective country and in English, so that it can be recognised within the country of the bearer as well as abroad, in EU member countries, and therefore it is valid in all.
How can it be obtained?
The responsibility and authority to issue the European Union Digital Covid Certificate lie with the authorities of each country. It can be obtained at testing centres or issued by the health authorities, finally, it can also be downloaded directly online.
In Portugal all you need to do is visit the website of the SNS24 and choose the type of certificate you want to obtain (vaccination, testing or recovery), insert your date of birth, health service number and click on submit. You will then be sent an access code by SMS and email. Simply click on "insert access code" and type it in, wait for the request to process and, once validated, the document will be provided to you on the website itself, or sent to an email address of your choice.
How it works
The digital version of the European Union Digital Covid Certificate can be downloaded and stored on a mobile device, such as a cellphone or a computer, but it can also be printed. Both formats include the QR code and digital signature that guarantee their authenticity.
The QR code of each certificate includes a digital signature, to avoid forgeries. When it is analysed the code can be verified by digitalisation and confirmation of the signature. Each issuing entity (health authority, testing centre or hospital) has its own digital signature and they are all registered in national databases, and can be checked on a website run by the European Commission.
Will your personal information be shared with other countries?
No. No transmission of personal information is necessary on the website to confirm the digital signature. Only the minimum essential information regarding the bearer is presented on the certificate (name, date of birth, date of issue, information regarding the vaccine, the test or recovery).
This data will remain on the certificate, and not be stored or preserved by any other EU member states. These can only confirm its validity and authenticity through the identification of the entity that issued and signed it.
Does the passport mention which vaccine I took?
Anybody who has been vaccinated against Covid-19 can obtain this certificate, so member states accept certificates regarding vaccines accepted in the European Union. It is then up to each member state to decide if it also wants to allow free circulation to travelers who have received a different vaccine.
What are the advantages?
The European Covid-19 vaccine passport guarantees its bearers free circulation within the borders of all European Union member states, so anybody who is fully vaccinated can obtain the document and, therefore, be exempted from testing before travelling as well as the 14-day quarantine period generally demanded. The same applies to those who were ill and meanwhile recovered.
How about circulation within Europe?
The document is accepted in all European Union member states and is a means of guaranteeing that the restrictions put in place during the pandemic will be lifted in a coordinated manner. Regarding travelling, holders will be exempt from said restrictions, as it has been agreed that member states shall not raise objections or impose obstacles to travelling for anybody who is fully vaccinated and holds a certificate, except for eventual reasons of public health. This could include, for instance, the occurrence of a new variant that justifies new restrictions. In such a case, all other EU countries will need to be informed, and any new restrictions will have to be justified.
If I am not vaccinated can I still travel?
You can still travel to other European Union countries without the vaccine. This Covid-19 vaccine passport was created to make circulation easier, but it is not a condition for travelling. Besides, the certificate can also include results for tests which are often demanded, given the restrictions that occur.
How does the certificate work with tests?
If you present a Covid-19 vaccine passport with information proving you tested negative, you will be exempted from mandatory quarantine, unless you are travelling from a region which is heavily affected by the virus. The standard time limits for tests are 72 hours for PCR and 48 hours for rapid antigen tests, where these are accepted.
Visit https://reopen.europa.eu/en for more information and to check for updates regarding travelling and health measures in any European Union state.