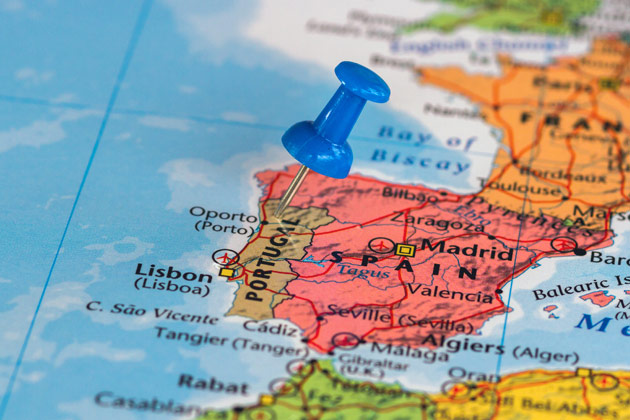 The new coronavirus has brought the world to a standstill. Every inhabited continent has reported confirmed cases of the new virus, leading to isolation and lockdown in several countries. 
The virus was first identified in China, in December 2019, and was meanwhile named SARS-Cov-2. It quickly jumped beyond the borders of Wuhan (Hubei province) and proceeded to spread all over the world. 
On 30 January, the World Health Organisation (WHO) classified the outbreak as an international public health emergency and on 11 March upgraded it to pandemic. 
In this article we have gathered some useful information for you, such as the measures that have been put in place by the Portuguese government. 
Covid-19: What are the main symptoms?
The SARS-Cov-2 is part of the large coronavirus family. Other strands of coronavirus have been known to infect humans for some time, and these can cause anything from a mild cold to more serious respiratory infections, such as SARS (2002) and MERS (2012). This new variety had never been identified before in humans, and the illness it causes is called Covid-19.
According to the WHO, the most common symptoms are: 
Fever;
Fatigue;
Breathing difficulties.
Some people also complain of body aches, nasal congestions, runny nose, sore throat and diarrhoea. Others, despite being infected by the virus, do not develop symptoms, and are therefore asymptomatic. 
According to the WHO, around 80% of patients recover without the need of any special treatment, but others develop severe pneumonia, with acute breathing difficulties and failure of the kidneys and other organs that can eventually lead to death. 
Some sectors of the population are at greater risk of developing more serious symptoms. These include the elderly (over 70), people with other chronic illnesses, such as diabetes, heart disease, cancer, high blood pressure or chronic respiratory illnesses as well as those who have immunity problems. If you develop Covid-19 symptoms you should not go to an Emergency Room, but instead call the national health service hotline and follow directions given. The number is 808 24 24 24.
You can learn more about the disease, symptoms or treatment at the World Health Organisation or Portugal's board of health (DGS) websites. 
Portugal's containment measures
In order to contain the Covid-19 outbreak, Governments all over the world have been taking measures to avoid a peak in numbers. The Portuguese government is no exception and has adopted several measures such as restoring border controls with Spain until June 30. 
A joint decision was also taken by the EU and Schengen Space countries to suspend all flights from outside of the Union that lasted until 30 June. These restrictions applied to non-essential travel and began on 19 March. 
Portugal returns to state of calamity
On 15 October Portugal returned from a state of contingency to a state of calamity. Therefore, there are new measures in place. These include:
No gatherings of more than five people on public roads or any other commercial spaces or restaurants;
Family events, such as weddings, baptisms and others are limited to 50 guests;
People are advised to wear face masks in public, whenever it is impossible to guarantee social distancing;
The public are advised to use the StayAwayCovid app and insert information on any positive tests into it;
Any academic parties or non-lecture or scientific related activities, such as university freshman welcoming parties and other festivities, are strictly forbidden;
Shops and restaurants that cannot ensure the fulfilment of existing rules will face up to 10 thousand euro fines.
A return to the state of contingency in Mainland Portugal
As of 15 September, the state of contingency that already applied to the Lisbon Metropolitan Area was extended to the rest of the mainland.
Measures in all of mainland Portugal:
Gatherings are limited to 10 people;
Gatherings of only four people are allowed in restaurants located in shopping centres, as well as in restaurants, cafés and patisseries located within 300 meters of schools;
Commercial establishments can only open from 10am onwards (with the exception of cafés, patisseries, hairdressers or gyms) and can close between 20h and 23h;
There are also changes to restaurant timetables: clients can enter up to midnight, and the establishments can remain open until 1h;
The sale of alcohol is forbidden at service stations (at any time) and in any commercial establishment from 20h onwards, except for drinks that accompany meals;
The consumption of alcohol in public outdoor spaces is forbidden;
No audience permitted in sports facilities;
It is not necessary to wear masks in the street, but their use continues to be obligatory in all closed spaces, including public transport, commercial establishments, cafés and restaurants (except while eating and drinking), public services and schools (staff, teachers and students from grades 1 onwards).
Measures for the Metropolitan Areas of Lisbon and Porto:
Measures regarding distance working remain, but a number of measures are planned to ensure a rotation between distance working and being in the office;
A rotation system should be employed to ensure different schedules for entering and leaving, but also for breaks and meals between employees.
Portugal in a state of alertness
On 1 July Portugal moved into a state of alertness, although Lisbon and the Tejo Valley region were put into a state of contingency (intermediate level) — 19 localities in the Lisbon metropolitan area (all of Amadora and Odivelas, six parishes in Sintra, two in Loures and the parish of Santa Clara, in Lisbon) remained in a state of calamity until 1 August, but, since then, have also been put into a state of contingency.
Mainland Portugal – state of alertness
The main measures are:
Mandatory isolation for infected patients and people under active observation;
Rules regarding physical distancing remain in force, as do those regarding the use of face masks, maximum occupancy, timetables and sanitisation;
Gatherings of up to 20 people only;
Consumption of alcohol in public spaces is forbidden;
Fines: of €100 to €500 for citizens and between €1,000 and €5,000 for organisations and companies.
Lisbon and Tejo Valley – state of contingency
The additional measures are:
All commercial establishments must close at 20h, except: restaurants serving meals and take-away, supermarkets and hypermarkets (until 22h), petrol stations, clinics, doctor's offices and veterinarians, chemists, funeral homes and sports equipment shops;
Service stations are forbidden from selling alcohol;
Gatherings of up to 10 people only.
19 parishes in the Lisbon Metropolitan Area – state of calamity
The additional measures were:
Civic duty to stay at home;
Markets and fairs are forbidden;
Gatherings of up to five people only;
Increased vigilance of mandatory isolation by joint teams of Civil Defence; Social Security and Community Health officers.
State of Calamity in Portugal
A state of calamity was declared in Portugal on 4 May. Staying at home is now a civic duty for the general population.
The transition plan announced by the Government foresees different measures for different phases. The first began on 4 May, while the second one began on 18 May and the following two started on 31 May and 1 June.
First phase
The main measures included:
Masks are now mandatory on public transport, at all public attendance services, schools and commercial establishments, as well as in services that are open to the public;
Events or gatherings with more than 10 people are forbidden;
Relatives are now allowed at funerals;
Wherever possible, people should work from home;
Public transport will be equipped with disinfectant and capacity is limited to 66%;
Public services will see people by appointment;
Local commerce, including restaurants, hairdressers, bookshops and car stands, can now open;
Libraries reopen and individual outdoor sports can be resumed.
Phase two
Phase two began on 18 May, and included the following measures:
Restaurants, cafés, pastry shops and their respective terraces are now open, but safety measures must be observed. These include keeping a distance of two meters from other patrons, all customers must wear masks and the occupancy of the establishment is reduced to 50%;
Shops up to 400 M2 can open, so long as they have a door to the outside. Masks are mandatory in commercial spaces and limits must be set on the total area in which people are allowed to circulate;
Museums, monuments and palaces, art galleries and exhibition rooms can resume their activity. Visitors must disinfect their hands and use masks indoors, as well as respect safety distances;
Camping and caravan sites reopen, as do motorhome service stations, football and rugby pitches and stadiums. Recreational sailing lessons can resume, and boats can be surveyed and inspected again;
On site classes begin again for 11th and 12th grade students, who must wear masks and are forbidden from going outside during breaks. Classes will be divided into shifts – either morning or afternoon – and will be held in large spaces;
Day-care centres can reopen, but must respect certain social distancing and hygiene rules,  set by the General Health Directorate. These include fewer children in each classroom and having them leave their shoes at the door;
Visits to retirement homes are once again authorised, although with strict rules. For example, visitors must book beforehand and there can only be one per resident.
Phase three
The third phase kicked in on 1 June. The main measures were:
Gyms reopened, but with tough security measures. Masks must be worn on entering and leaving and a minimum distance of three meters must be kept between people. Changing rooms remain closed;
Restaurants are no longer limited to 50% capacity, so long as they can ensure barriers between clients who are face-to-face and a safe distance between tables;
Shopping centers and shops over 400m2 reopen all over the country on the 1 June, except in the Greater Lisbon area, where they are set to open only on 4 June;
Cinemas, theatres and concert halls reopen, as long as they can guarantee that patrons use masks, keep entrances and exits separate and ensure safety distances;
Working from home is no longer mandatory, although it can be kept up as an option;
Religious services can be resumed, providing masks are used and safety distances ensured;
Preschool starts up again, with new safety rules;
The beach season will start on 6 June, with maximum occupancy in place for beaches and social distancing requirements in place.
State of emergency and respective measures
Prior to this, a state of emergency had been declared in Portugal on 18 march, and renewed on 1 April and 26 of April, until 2 May. This was an exceptional situation which allows the Government to apply certain restrictions. 
Mandatory confinement
Mandatory confinement has been decreed for people who are ill with Covid-19, or infected, or who have been under active vigilance by the health authorities. If one does not comply, one can be charged with disobedience. 
Special duty of protection
This applies to citizens who are part of so-called risk groups. These people should only leave the house in order to go shopping, to the bank, post office or health centre, to take short walks or to walk pets. 
General duty of confinement
The general population is required to avoid unnecessary travel. They should leave home only to purchase essential goods, go to the bank, post office or health centre, to go to work or to job interviews, help with family or for short walks with children or pets. 
Working from home
Whenever possible, people should work from home. 
Suspension of trade and retail
Trade and retail activities have been suspended, except in cases of essential or important goods. Establishments that can stay open include grocery stores, supermarkets, butchers, bakers, petrol stations, chemists, newsagents, veterinary clinics or pet stores. 
Public services: in person, only by appointment
Public services will have their doors closed and see people only by appointment or by phone. Citizen's Shops will be closed and other services are only available to those who make appointments. 
Novo Banco's measures
Due to the pandemic, NOVO BANCO has been trying to dissuade people from going to branches, and encouraging the use of digital channels, with certain benefits until the 30th, such as: 
– Free (non-immediate) interbank transfers through digital channels (NBnet and NB smart app);
– Commission free advances of cash and credit to your checking account through NBnet;
– Free services on MB WAY.
NOVO BANCO branches have taken to closing at lunch time, for a period of up to three months. The bank guarantees hygiene and safety conditions for its staff at each of its branches. At the branches, equipment and shared spaces are disinfected regularly and there is a limit of 4 people per every 100m2. Some branches are temporarily closed to the public and the rest close between 12h and 13h. 
You can see details of the measures adopted here. 
 Useful links
> Portuguese Board of Health (Direção-geral da Saúde)
> Contacts of embassies and consulates in Portugal (Portuguese only)
> Information on air-travel restrictions in several countries
SNS24 Hotline: 808 24 24 24