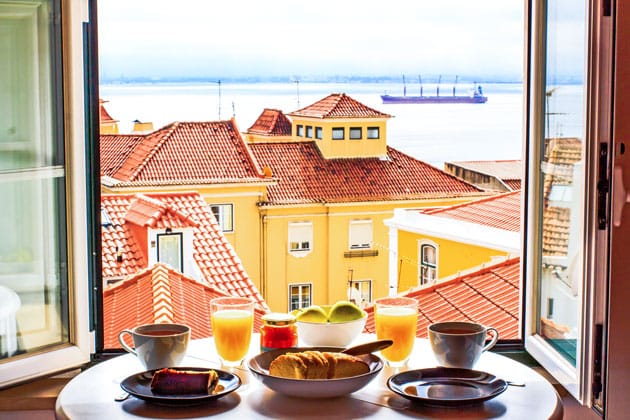 Many foreigners dream of having the opportunity to buy a house in Portugal. Find out what you need to do to become a homeowner in this country.
There are more and more foreigners wanting to buy a house in Portugal. The quality of life, the proximity to the center of Europe, the mild climate, the food, and the tax advantages are the main reasons.
If you are also looking for a chance to become a homeowner in Portugal then read on and we'll explain what it is you need to do, step by step.
Get someone to represent and advise you
If you don't yet live in Portugal, it is best to find a lawyer to represent and advise you during the purchasing process. They can tell you all you need to know about costs, documents, and legal steps necessary to buy a house in Portugal.
Get a Tax Number (NIF)
In order to buy a house in Portugal you will need a Tax Identification Number (NIF). This can be obtained at any Tax and Customs Office desk (Autoridade Aduaneira) or at any Loja do Cidadão. If you are an EU citizen, all you need to do is present a civil ID. If not, you will need to present your passport.
If you are not a legal resident in Portugal, you will have to name a tax representative, such as your lawyer, for instance.
Find your dream house
The next step is to choose the house of your dreams. Think about the features that are most important to you and your family. Do you want to be by the sea or in the city, do you prefer an apartment or a house? Do you need a garage? Can't live without a terrace?
Before you move ahead with your purchase, you should have a good notion of how much you are willing to invest.
Location is an important factor to take into account. House prices and real estate tax (IMI and AIMI) vary according to where you are. Portuguese cities: Where do you want to live?
If you plan on buying a house with a floor area of 80 square meters, look instead for a house with a gross area of 100 square meters. In Portugal, house descriptions always work in terms of the gross area, which is the total area of housing as measured by the outer perimeter.
Once you've decided what type of house you want, and where you want to live, it's time to start searching. There are plenty of real-estate agencies in Portugal that can help you find the perfect house and guide you along the way until the deal is done.
Find out about housing prices
Houses are generally quite expensive in Portugal, although they can seem more accessible if you compare them to other European countries such as France or the United Kingdom.
Lisbon has the highest median house prices in the country (3,296 €/m2), much higher than the national median of 1,197 €/m2), followed by the neighbouring municipalities of Cascais (2,824 €/m2), and Oeiras (2,434 €/m2). These figures are provided by the National Statistics Bureau and reflect the 12 months up to March 2021 (see table below).
Further north, Porto stands out with an average housing price of 2,233 €/m2.
In the Algarve, one of the regions that is most interesting to foreigners looking to buy a house in Portugal, the highest median prices are to be found in Loulé (2,217 €/m2), Albufeira (2,063 €/m2), Tavira (2,058 €/m2), and Lagos (2,025 €/m2).
Portuguese municipalities with the highest prices
| | |
| --- | --- |
| Municipality | Average housing price |
| Lisbon | 3,296 €/m2 |
| Cascais | 2,824 €/m2 |
| Oeiras | 2,434 €/m2 |
| Odivelas | 2,071 €/m2 |
| Porto | 2,233 €/m2 |
| Loulé | 2,217 €/m2 |
| Albufeira | 2,063 €/m2 |
| Tavira | 2,058 €/m2 |
| Lagos | 2,025 €/m2 |
Source: INE
Formalise your purchase
Found your ideal house? Don't waste time deciding to buy in Portugal. The first thing you will need to do is sign a promise of sale and purchase agreement and pay a deposit. This will set the guidelines for the deal and the conditions according to which it will take place. If the seller has second thoughts you will be entitled to double the value of the deposit, but you should note that if you back out you will lose your deposit.
Collect the necessary documentation
First, you will need a Certidão do Registo Predial (Land Registration Certificate). This document holds all the pertinent information of the property, the identity of the legal owner, and reveals whether the property has an existing mortgage. You can ask for the land registry certificate and the informação predial simplificada (simplified property information) in a digital format from the Registo Predial online (online land registry), without having to waste time in queues.
The Caderneta Predial (legal building status) can also be requested in a tax office or through the tax authority online service (Portal das Finanças). With this document you can see the tax status of the property.
Finally, go see the municipal master plan (PDM) from the corresponding authority to make sure that there are no public works projects that could undermine the value of the property.
Confirm the license of use of the property to make sure that it is legal for housing. This document is also available at the municipal city council in the area where the house you want to buy is located. Request and read the Ficha Técnica de Habitação (technical housing file) which has the main technical characteristics of the property.
If you use a real estate agency to buy a house in Portugal, it will help you to obtain the necessary documentation.
Sign the deed
The final stage of your purchase is signing the deed. From that moment on you will be a homeowner in Portugal.
When you sign the deed you will have to pay a Municipal Tax on Sale of Real Estate (IMI).
Once that is done all that is left to do is move into your new house in Portugal.
Now that you know everything about buying a home in Portugal, it's time to find the right partner to finance it and to insure it. Enjoy the move.