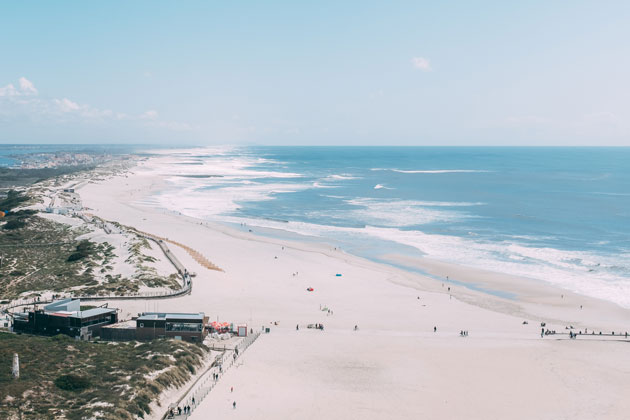 From north to south, the available seaside real estate is bound to make an impression. Read on to learn about the best areas to invest in seaside real estate in Portugal. Follow our tips to make sure you get a good deal.
The real estate sector in Portugal is in a good position when compared to the competition. The position and political stability of the country are a few of the factors which have attracted a growing number of foreigners. The wonderful landscapes, the fantastic climate, the culture and wonderful cuisine also help.
Portugal: a perfect destination for your investment
More and more foreigners are looking for houses on the coast, either for first or second dwelling, or simply as an investment. And this is not only due to the surrounding landscape and the tranquillity of the close contact with nature.
Sea side real estate in Portugal is a long term investment with a guaranteed return. The proof is in the increasingly high demand for high end housing in these prime destinations. And, when compared to what is on offer in other countries, the prices are quite inviting.
The Portuguese coast is made up of fantastic beaches with expanses of white sand and high cliffs which command stunning views. Magnificent places you'll want to be. And to stay. Trust us. You too will want to have a house on this marvellous coast.
Investing in seaside real estate in Portugal: cooler up north, hotter down south
The Portuguese climate varies from region to region. It is cooler in the coastal areas of the north and warmer in the southern ones. But one thing is guaranteed: even in the winter time, the climate is moderate and pleasant.
Ericeira and the West
The Western region, and the area around Ericeira are seeing growing demand on the part of investors in seaside real estate in Portugal. What is it that draws them? Giant waves, typical fishing villages and the traditional cuisine. And what could the downside be? These are cooler areas and the sea is rougher than along the coast further south. But at the end of the day, to each his own, it is up to you to decide.
Distance from Lisbon airport: Around 48 km
Population: 10,260
Price per m2: 1,827€
 Source: INE and Idealista, 5/12/2018
Cascais and Estoril
Cascais and Estoril are prime areas for investment in seaside real estate in Portugal. Living here is basically like being on holiday all year round, and getting a feeling for the aristocratic life of centuries past. Cascais and Estoril boast excellent natural conditions and offer great quality of life. There is no shortage of safety, culture, nature, shopping, schools, hospitals and great food. The Cascais coastline is one of the most expensive and exclusive in Portugal.
Distance from Lisbon airport: Around 40 km
Population: 206,479 (Cascais)
Price per m2: 4,376€
Source: INE and Idealista, 5/12/2018
Comporta
The Comporta area, south of Lisbon, has been gaining ground in valuations of seaside real estate in Portugal. Houses are sought after by foreigners looking to be close to nature in its purest form. Isolation and beaches are what the region has to offer. A paradise, not too far from the capital.
Distance from Lisbon airport: Around 120 km
Population: 1,268
Price per m2: 3,149€
Source: INE and Idealista, 5/12/2018
Algarve
The Algarve is in high demand by international investors in the luxury housing segment. Perfect climate, stunning scenery, food and endless days on the beach are some of the region's selling points. The prices per m2 have evolved in a positive way thanks to demand by English, French and Brazilians who set up homes there to enjoy their calmer days.
Distance from Faro airport: Around 90 km (Lagos) and 45 km (Albufeira)
Population: 31,049 (Lagos) and 40,828 (Albufeira)
Price per m2 in Albufeira: 2,324€
Price per m2 in Lagos: 3,143€
Source: INE and Idealista, 5/12/2018
Steps to ensure you make the best investments in seaside real estate in Portugal
You can find what you are looking for in Portugal. The best seaside real estate investment is waiting for you.
Pick according to your family's lifestyle and taste. Do you prefer isolated areas, or are you more cosmopolitan? Are you looking for sun, or a cooler climate? Are sports activities important to you? How about cultural events, markets or food fairs?
You will find a number of real estate opportunities at NB Imóveis, NOVO BANCO's real estate site.
Get your advice from people who know. Value safety and credibility, such as what NOVO BANCO offers with its NB Golden Key Solution. Happy investing!