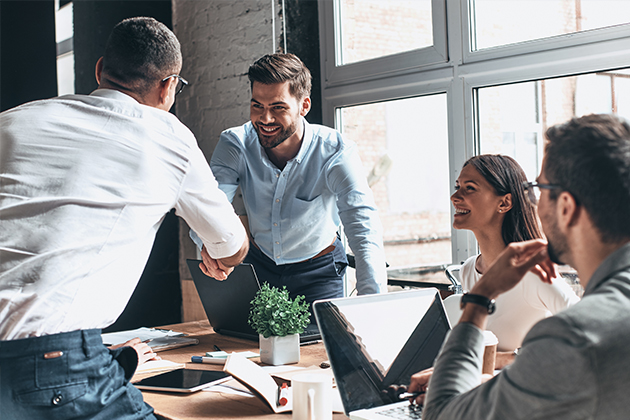 In this article we tell all you need to know about finding a job in Portugal.
For most foreigners Portugal rhymes with holidays, but for others it is the perfect place to start over – not only because of the very attractive tax regime for non-habitual residents, but also because of the many natural resources which can be found all around the country.
If you're aiming at finding a job in Portugal, be aware that even though Portugal is known for being a cheap country, salaries tend to follow suit. 
In 2019 the minimum wage was €600 and the average salary was €943. 
However, it all depends on your qualification and experience. For example, with a university degree you can expect an average of €1547 base salary, or XXXX if you have a doctorate.
Finding a job in Portugal: The best sectors
According to PORDATA the best opportunities to finding a job in Portugal are to be found in the tertiary sector – commerce and services. 
This sector includes tourism. Given how much it has grown over the past years, many companies are looking for experienced workers who, above all, can communicate in different languages, especially English, French and German.
Besides tourism, there are also telemarketing and call centres which are always on the lookout for staff who are fluent in several languages, making this also a good opportunity for finding a job in Portugal.
Another sector with good job offers is tech. More and more multinational tech companies are opening offices in Lisbon and Porto, providing plenty of opportunities in this field, especially for developers. 
Following an analysis of the Portuguese labour market, multinational recruiting company HAYS identified what it considered to be the best opportunity to finding a job in Portugal for 2019. Here they are: 
Accounting and Finance
Certified Accountant
Management Controller
Internal Auditor
Financial Officer
Banking and Insurance
Risk Analyst
Corporate Salesman
Internal Auditor
Automobile Loan Salesman
Controller
Investment Associate
Team Leader – Operations
Human Resources
Human Resources Manager
HR Business Partner
Talent Acquisition
Head of Organisation
Legal
Associate Lawyer – Real Estate
In-House Counsel
Legal Officer
Associate Lawyer – TMT
Associate Lawyer – Tax
Trial Lawyer
Industry and Logistics
Head of Logistics / Supply Chain
Buyer
Procurement Manager
Industrial Director
Mechanical Project Engineer
Quality Engineer
Electronics, Automation and Robotics Technician
Process / Continual Improvement Engineer
Production Director
Maintenance Director
Commercial Engineer
Head of Maintenance
Head of Production
Construction and Real Estate
Project Manager
Real Estate Appraiser
Sales and Marketing Director
IT
Project Manager
ERP Salesman
Business Analyst
Outsystems Developer
Front-end Developer
Full-stack Developer
Mobile Developer
Machine Learning Engineer
Business Intelligence Consultant
Business Intelligence Manager
Network Engineer
Python Developer / Data Scientist
Marketing and sales
OOH Sales Manager
Sales Analyst
E-Commerce Manager / Specialist
Export Manager
Trade Marketing Manager
Category Manager
Product Manager
Digital Marketing Manager
Retail and Large-scale Distribution
Head of e-commerce
Modeller
Restaurant Shift Leader
Salesman
CRM Technician
Digital Marketing Manager
Category Manager
Tourism and Leisure
Sales Director
Sales Manager
Sales Executive
Revenue Manager
General Director of Operations
Digital Marketing Manager
F&B Manager
Chef
CRM Manager
Life Sciences e Pharmaceuticals
Medical Science Liaison
Medical Advisor
Technical Director
Clinical Research Associate
Business Services Centre
Accounts Payable
Accounts Receivable
Record to Report
Customer Service Support
Software Developer
Helpdesk
Head of Procurement
Recruiter
How to look for work in Portugal
You'll find all sorts of job offers in the classified ads of major newspapers Expresso or Público, updated daily.
If, on the other hand, you prefer to search on aggregators, two good options are Sapo Emprego and Net-Empregos. 
Finally, if you are on social media, and you're aiming at finding a job in Portugal, you can look for offers on Facebook, which has a special page for offers which generally don't require special qualifications. You can also search on LinkedIn, where ads are generally aimed at more highly qualified people. 
Portugal's best employers
Every year, Human Resources company Randstad publishes the Employer Brand Research, which covers 32 countries and, among others, lists the country's best employers. These were the top ten in Portugal in 2019:
1. Microsoft
2. TAP – Transportes Aéreos Portugueses
3. Hovione Farmacêutica
4. ANA – Aeroportos de Portugal
5. Siemens
6. Delta Cafés
7. Nestlé
8. Farfetch
9. Banco de Portugal
10. RTP – Rádio e Televisão de Portugal