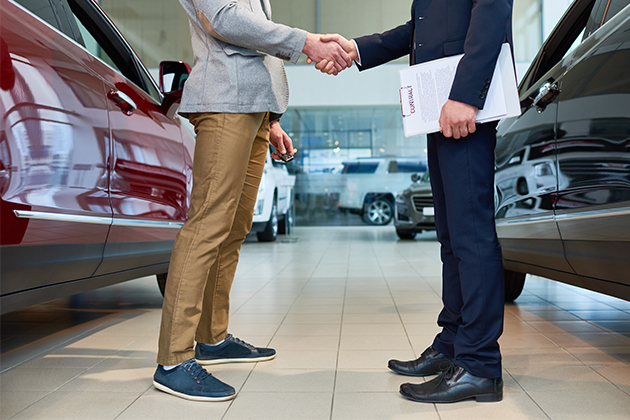 Just moved here, and want to know how to buy a car in Portugal? There is plenty on offer. 
If you have decided to buy a second-hand car then there are two options. You can go straight to a dealership or you can try to buy one off a private owner. If you choose the latter, you'll probably get a better deal, but through a dealership you will be entitled to a one-year guarantee, minimum, plus they help deal with the red tape. Learn all you need to know.
How to buy a car in Portugal: Look online
If you want to know how to buy a car in Portugal, sites such as standvirtual or sapo have a wide range of cars to search through. You can filter your search according to the characteristics you are looking for, and make a first selection of the ones you are interested in. When you go to actually see the car, though, make sure to look over every detail, so that you don't get swindled. 
You can have a mechanic accompany you to check it over. This is quite common in Portugal, and the owner won't be bothered by it. 
Ask to see the documents
Another thing to look out for is the car's documents. Make sure they are up to date and that the car you are buying matches the specifications in the car's registration, or Documento Único Automóvel (DUA). 
The documents can also tell you if the car is mortgaged or if it belongs to a third party, but to be safe you might want to get to the Conservatória do Registo Automóvel and double check. If there is an issue with ownership or mortgage then the vehicle can only be sold with the permission of the financial institution or bank that owns the car or financed its purchase. 
Check the service history
If all the paperwork is in order and the car seems all right to you, don't forget to make sure it has been serviced. If the service history is with the original maker, all the better. The log book will tell you if there has been any serious malfunction that might come back to haunt the car in the future. 
Registration and insurance
If you decide to go ahead with the purchase, then it's time to deal with the paperwork. You'll need an ID, a Portuguese tax number and address in the country. 
The first step is to get the car registered in your name. To do so you need to fill in a form at the Instituto dos Registos e Notoriado or at your local Citizen's shop. You have 60 days to get everything in order.
To get the ownership changed you'll need to take a registration form, filled in and signed by both buyer and seller, and the current registration (DUA), as well as copies of both IDs.
But one of the first things you need to do is get car insurance. You cannot drive an uninsured car in Portugal. 
How to buy a car in Portugal: What if its new?
If you want to buy a new car then things are even easier. Just get a quote from the maker of your choice and keep an eye out for special deals from other makers for similar models, to make sure you're getting the best for your money.  
When you buy from a dealership it will handle all the paperwork. All you need to do is give them the documents they ask you for and transfer the money. 
Taxes
Different taxes apply depending on if it is a new or a second-hand car. Both have to pay the Single Circulation Tax (IUC) through the Tax Office. When you are buying a new car, however, you also have to pay the Vehicles Tax at the moment of purchase.
The IUC is due yearly on the month of the car's license plate issue. If it is a new car, then, this will coincide with the sale.  
Here you can learn all about how to get a license plate for your car in Portugal.
Now that you have decided to buy a car, and will be needing insurance, find out how the Golden Key Account can help you when it comes to making the best choices for you and for your needs.