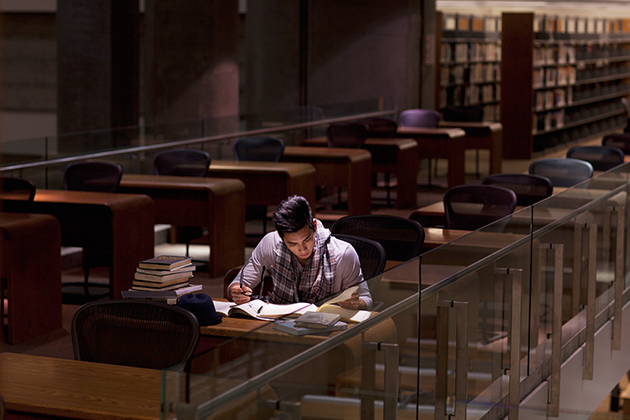 If you are thinking of moving to Portugal and you want to know which are the main universities and what their strong suits are before you make a decision, then this article is for you. 
We consulted the two main International rankings: the QS World University Rankings 2020, that was published in 2012 by British consultants Quacquarelli Symonds; and the Times Higher Education (THE) Impact Rankings, that rate the global success of universities insofar as they fulfil the UN's Sustainable Development Goals. This resulted in a list of 12 universities that we invite you to learn more about. 
Ranking | #338 QS World Ranking
This is the best placed Portuguese university in the QS World Ranking. Founded in July 2013, the University of Lisbon was the result of a merger between the Universidade Técnica de Lisboa and the Universidade de Lisboa and it is Portugal's largest. With 18 schools and over 100 research units, it caters to 50 thousand students, across 400 courses and has a staff of 400 professors. Behind it lies a heritage of seven centuries and it is an integral part of the social fabric of Portuguese and Lisbon society, staking its claim as a great centre of teaching, research, innovation, sports, culture and art. Its motto is "a University in Lisbon, for the world" and every year it hosts over 1000 foreign students, looking for the highest quality education and culture, plus the characteristic climate and hospitality that Lisbon and Portugal have to offer. 
Ranking | #353 QS World Ranking
With its roots in the XVIII Century, the University of Porto is one of the most prestigious in Europe and ranks 353 in the QS World Ranking. With 15 schools and over 50 research units, it caters to around 32 thousand students and boasts 2500 professors and researchers, distributed among the three campuses located in the city. It offers a variety of courses, running the gamut of fields of knowledge and all levels of higher education, including programmes in foreign languages.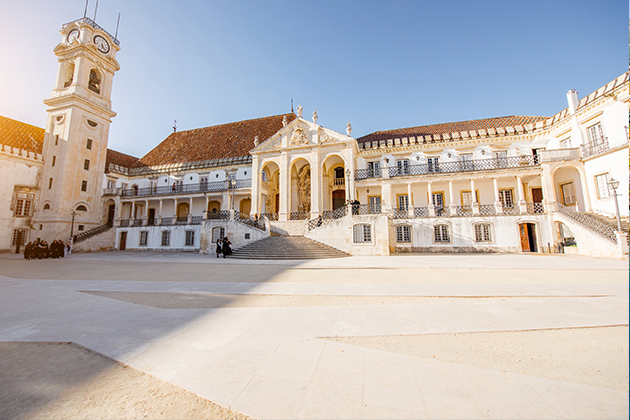 Ranking | #406 QS World Ranking e #62 THE Impact Ranking
There is a reason why Coimbra, Portugal's fourth largest city, is known as the "Student's city": The University of Coimbra is the oldest in Portugal and one of the oldest in the world. It's history spans seven centuries, since it was founded in 1290 and it has eight faculties, spread over three campuses, over 40 research centres, and boasts 1500 professors and researchers. It offers programmes in foreign languages and 10% of its 21 thousand students are from abroad. Students at this university benefit from a very rich academic experience, full of traditions, as Coimbra is known for having the best university atmosphere in Portugal. The XVI Century campus is classified as UNESCO world heritage and the university has the oldest sciences faculty in the country. 
Ranking | #421 QS World Ranking e #101-200 THE Impact Ranking
Founded in 1977, the Universidade Nova de Lisboa is the most recent state owned university in greater Lisbon. It has branches in Lisbon, Almada, Oeiras and Cascais and a strong reputation in the field of innovation, having signed important protocols with its peers both in Portugal and abroad. Its research is internationally renowned, and it takes part in exchange programmes with many other European institutions. The university also cooperates with Brazil, Portuguese speaking countries and Latin American countries, as well as other regions of the world. 
Ranking | #551-560 QS World Ranking e #101-200 THE Impact Ranking
Founded in 1973, the University of Aveiro is the crown jewel of a city that is known as the Portuguese Venice. With around 15 thousand students, it is considered one of the most dynamic and innovative institutions in Portugal and one of the best in terms of the quality of its infrastructure, research and the general excellence of its staff. It offers a wide range of courses in several fields of knowledge that reflect its innovative and multidisciplinary character. Its main expertise is sciences and technology, and it has four pillars of excellence that are electronics and telecommunications, material sciences and nanoscience, marine and environmental studies and teacher training. Courses are designed to build skills in technical and scientific fields as these pertain to business, industry and society.  
Ranking | #651-700 QS World Ranking e #101-200 THE Impact Ranking

The Minho University was founded in 1973 and became part of the wave of "new universities" that revamped education in Portugal. It has three campuses in Braga and Guimarães, in the North of Portugal, and includes 11 teaching and research units for Sciences, Engineering, Education, Arts and Humanities, Social Sciences, Economics and Management, Law, Medicine, Nursing, Architecture and Psychology. It is also responsible for 32 research centres and describes itself as an institution that promotes research and knowledge. It has invested strongly in internationalisation and has established partnerships with over 400 universities all over the world, running two international masters courses under the Erasmus Mundus programme. At the beginning of each semester it allows its Erasmus students to attend 60 hours of Portuguese classes, to facilitate their integration into social and academic life, but it also has four doctorate programmes that are taught in English. The historic centre of Guimarães, one of the cities where the university is based, was classified as a world heritage site in 2001 by UNESCO. 
Ranking | #801-1000 QS World Ranking e #301-400 THE Impact Ranking
The Portuguese Catholic University was founded in 1967 and is unique in the fact that it is a public non-state-owned charity. It was created by papal decree, at the request of the Portuguese Bishops Conference, under the Concordat that regulates the Portuguese government's privileged relationship with the Holy See. It started off as a Philosophy Faculty in Braga and three years later expanded to Lisbon, where it is currently headquartered. Both the institution and all its degrees are officially recognised by the Portuguese Government and since it was founded it has also opened branches in Porto and Viseu. It's 15 faculties are spread out over these four cities, as are it's 11 thousand students and 1000 professors. The faculties offer courses ranging from economics to education sciences, arts and humanities and biosciences and bioengineering. 
Ranking | #201-300 THE Impact Ranking
Founded in 1973 as the Polytechnic Institute of Covilhã, the Beira Interior University (UBI) is located in the small but affluent mountain city of Covilhã. It is a public institution created during a period of industrial struggle in the region, to give local residents the opportunity to pursue their studies without having to move to other parts of the country. Thanks to its fast growth, six years following its creation it was promoted to an institution for higher learning and acquired the status of university in 1986. Located around 250 km from Lisbon, the region is a magnet for practitioners of winter sports but is generally quite tranquil the rest of the year. The campus includes three book shops, several sports installations and five faculties: Sciences, Engineering, Social and Human Sciences, Arts and Health Sciences.
Ranking | #201-300 THE Impact Ranking
The University of the Algarve dates back to 1979 and is located in the touristic region in the South of Portugal. It is the result of a merger between the University of the Algarve and the Polytechnic Institute of Faro. Three of its four campuses are located in Faro, with the fourth in the Algarve's second largest city, Portimão. Courses are focused on six key fields: Literature and History; Engineering Sciences; Life, Marine and Environmental Sciences; Medicine and related Sciences; Social and Educational Sciences and Vocational Training and Economics, Management and Tourism. The university has several research centres, including in the fields of Molecular and Structural Biomedicine and Marine Sciences. The student's association offers sporting activities for the student body, such as kayaking, windsurfing and sailing. 
Ranking | #201-300 THE Impact Ranking
The University of Trás-os-Montes and Alto Douro (UTAD) is located in the cities of Vila Real and Chaves, in the Northeast of Portugal. It was formally established in 1986 but traces its roots back to the Polytechnic Institute of Vila Real, which was founded in 1973. This institute continued to exist until 1979, at which point it was transformed into the Institute for Higher Learning of Trás-os-Montes and Alto Douro. The University includes four faculties: one for Agriculture and Veterinary Sciences; one for Life and Environmental Sciences; one for Social and Human Sciences and one for Sciences and Technology. It also includes a polytechnic: the Vila Real Nursing School. UTAD takes pride in its modern infrastructure, labs and libraries, as well as its botanical garden in Vila Real, one of the largest in Europe. Its motto is "Scientia et Labore Omnia Adipiscere" (Find Science and Toil) and it is dedicated to expanding scientific knowledge and developing technology to respond to global, national and regional problems. 
Ranking | #301-400 THE Impact Ranking
The ISCTE – Instituto Universitário de Lisboa (IUL) is a public university that was founded in 1972. It specialises in business, sociology and public policy, social sciences, technology and architecture and has nine research centres, accredited by the Foundation for Science and Technology. Of these, the AUDAX (ISCTE-IUL's entrepreneurial centre) has a partnership with the Massachusetts Institute of Technology (MIT), as well as with several local authorities and business associations. It offers double degrees and cooperates with other institutions such as the Universidade Estadual de Campinas, from Brazil, the USA's MIT, the University of Gothenburg in Sweden, the National and Kapodistrian University of Athens and the Southern Medical University of China. 
Ranking | #601+ THE Impact Ranking
Setúbal is a fishing city and is known for its idyllic landscapes, where the Arrábida Hills meet the Atlantic, in a vast nature reserve. This is where the Polytechnic Institute of Setúbal was founded in 1979, currently divided into two campuses, in Setúbal proper and in Barreiro, part of the same district, but both included in the greater Lisbon area. It specialises in Health and Social Protection; Sciences; Maths and Computer Sciences; Social Sciences, Business and Law, and is made up of five different schools:  One for Technology, one for Education, one for Business Studies, one for Health and a second Tech school in Barreiro.  The university caters to around 6,000 students and has 650 professors, offering 85 different courses. Its motto is "together we build tomorrow" and it boasts a strong relationship with the community, the local schools, hospitals and businesses.