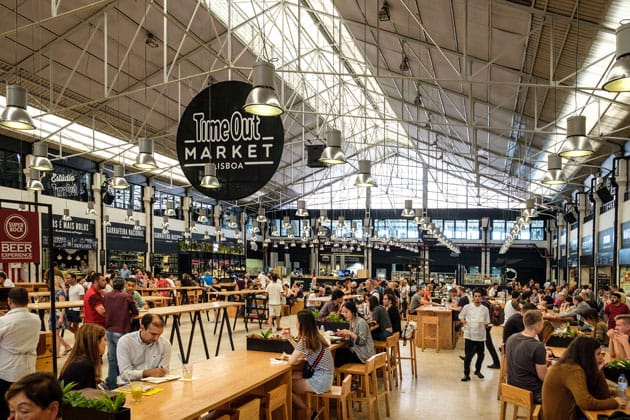 The capital of Portugal is well-known for its wide variety of fairs and markets. In recent years, many of the buildings that host them have been refurbished. Now, they have been turned into spaces which combine tradition with modernity. Learn about these historic sites and amazing spaces with our list of the best Lisbon markets.
Traditional markets in Lisbon
This is one of Lisbon's most historic markets and is famous for its fresh produce. The market stalls sell high quality fish, meat, vegetables, bread and cakes. If you get hungry while you're shopping, you can always take advantage of the restaurant area. Outside of the building there are a variety of convenience stores and clothes & shoe shops available.
Open Monday to Saturday, from 7:00 to 14:00.
Satisfy your curiosity and check out Lisbon's regional agricultural producers at an open air market. It is held every Saturday in Príncipe Real garden. Take the opportunity to talk directly with the vendors and learn more about their greens, fruits, vegetables, aromatic herbs, bread and olive oils while you wait to be served.
As the name implies, the products for sale in this Lisbon market all come from organic farming methods.
Open Saturdays, from 9:00 to 15:00.
Newly famous after appearing in Chef Anthony Bourdain's "No Reservations" television show. However, its true reputation comes from being one the oldest markets in Lisbon. Here you can find high-quality fish and seafood, as well as fresh fruit and vegetables. It also has a children's playground and an eating area for kids and grown-ups to relax.
Open Monday to Saturday, from 07:00 to 14:00.
Renovated markets in Lisbon
Opened in 1934 and located in a posh area of the city, its 2013 renovation took its inspiration from Madrid's San Miguel market. Now it blends traditional market stalls selling fresh fish, fruit and vegetables, with spaces where you can sample a bit of everything. Try some sausages, wine, beer, gin, ice cream, sushi and "bifanas" while you shop.
Open Monday to Thursday and Sunday from 10:00 to 23:00; Fridays and Saturdays from 10:00 to 01:00.
This is one of the most emblematic markets in Lisbon. It opened its doors in 1882 and is instantly recognizable by its huge dome. Did you know that because of this, people in Lisbon used to call it "the turnip"? It's situated between the Tagus River and downtown. Since 2014 it has boasted an area for the sale of fresh products, 8 bars, 24 restaurants with signature dishes from prestigious Portuguese chefs, and dozens of other stores. It also has a lineup of music events and workshops which offer enjoyment every day.
Open Sunday to Wednesday from 10:00 to 00:00; Thursday to Saturday from 10:00 to 02:00.
This Lisbon market also had an extensive renovation. Located in the city center, its stands are filled with fresh produce. Additionally, it has a dedicated kid's area allowing them to play while parents shop at over 20 shops and restaurants.
Currently, they are looking into the construction of a hydroponic greenhouse in the market's roof.
Open Monday to Saturday from 07:00 to 14:00.
Out-of-the-box suggestions
This is one of the most popular alternative markets and a must-visit for anyone who wants to find the unexpected. Located in the grounds of LX Factory, it combines an innovative design with urban workmanship, furniture and vintage clothes. It also offers a space for gourmet organic products to cater to hungry and thirsty visitors.
Open Sundays from 10:00 to 18:00.
The origins of this fair date back to the 12th century and it has changed location many times since. As of 1903 it has been housed in Campo de Santa Clara, in-between São Vicente de Fora church (the patron saint of Lisbon) and the Panteão Nacional. It is believed that the name originates from the use of the market in ancient times to buy and sell stolen items. Find second-hand items, junk and authentic rarities scattered around the place.
Open every Tuesday and Saturday from sunrise.
Gaining fame under the name "market of souls," it changed its address in 2017 but still remains the most important underground market in Lisbon. This market in Regueirão dos Anjos is a meeting point for designers, artists and collectors who look for things that you can't find anywhere else. It has a restored area which showcases organic products and vegetarian dishes.
Open on the first weekend of each month from 11:00 to 19:00